WELCOME TO THE
SOUTHERN CALIFORNIA BLUES SOCIETY!
Promoting the blues since 1982
THANK YOU, BLUES FANS, FOR ANOTHER SOLD-OUT FESTIVAL 12 YEARS IN A ROW!
SEE YOU AT THE SCBS BATTLE OF THE BLUES BANDS / REGIONAL IBC CONTEST ON SUNDAY, NOV. 13, 2022, IN LONG BEACH.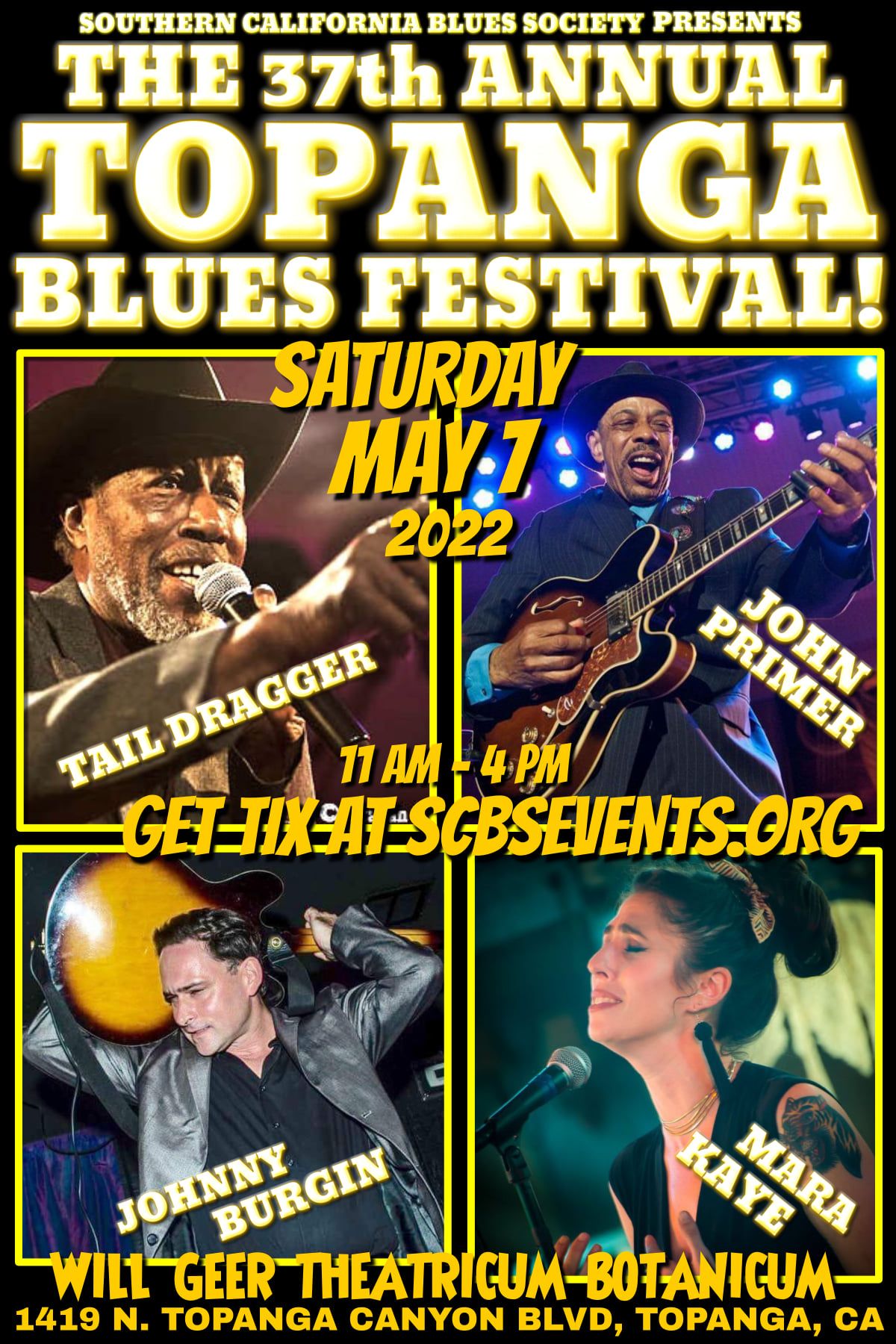 THE SOUTHERN CALIFORNIA BLUES SOCIETY'S
37th ANNUAL
TOPANGA BLUES FESTIVAL
SATURDAY, MAY 7, 2022
12 PM - 4 PM
(DOORS OPEN AT 10 AM)
WILL GEER THEATRICUM BOTANICUM
1419 N. TOPANGA CANYON BLVD, TOPANGA, CA
We are so excited to bring back this historical, annual blues event, and party with you, after a two year hiatus, due to the pandemic.
This year is very special.  We are flying out major Chicago blues royalty: Tail Dragger (protege of Howlin' Wolf), John Primer (Formerly of the Muddy Waters Band and Magic Slim and The Teardrops), and the Johnny Burgin Band, plus a brilliant acoustic duo Mara Kaye and Tim McNally, and harmonica master Kyle Rowland from Sacramento.  (Check out the sample videos below.)
Please get your tickets using the PayPal buttons below.
There are three levels of tickets this year.  Tickets are NOT mailed to you.  Your name will be at will call.
Thank you for your understanding and your amazing support of the blues in So Cal. We appreciate your amazing friendship and could never do this without you!
Friendly disclaimer: All sales are final, no refunds, but you may transfer your tickets to another person in the event that you can not attend.  Performer lineup subject to change.  Thank you for the support!
Handicapped Parking / Regular Parking: We have a very limited amount of handicapped spaces in the venue.  Please text 323-377-5291 as soon as possible to reserve your handicapped spot.  All non-handicapped patrons should park outside the venue along the street.
PLATINUM SPONSOR TICKETS ARE SOLD OUT
Guaranteed rows 1-3.  All of these seats are wooden benches with back rests.  $75 plus $5 service fee early bird special.  After March 1, 2022 these seats will be $100 each.
GOLD VIP TICKETS ARE SOLD OUT
Guaranteed rows 4-6.  All of these seats are wooden benches with back rests.  $55 plus $5 service fee early bird special.
GENERAL ADMISSION TICKETS ARE SOLD OUT
These seats are in the upper levels, rows 7-14.  These are concrete slabs with no back rests, but you are welcome to bring your own seat cushion with back rest.  Or you may sit in the grass.